Combating COVID-19 with Factory Automation Technology
In the face of adversity, innovation can do us a world of good. The COVID-19 pandemic has not only affected the health of people but has also led to a world economic crisis. We must adapt to life in this 'new normal' and prepare for challenges that need our attention.
The World Health Organization (WHO) has released norms that are to be followed while going out; one of them being compulsory usage of facemasks. However, the shortage of masks has led to a hue and cry amongst everyone. In India most of the Personal Protective equipment were imported from other countries due to cost advantage but the volume of demand has increased so rapidly that it now becomes inevitable for us to manufacture them locally and efficiently. Putting Factory Automation to good use, Mitsubishi Electric has come up with an effective and resourceful solution to the industry which wants automation to increase efficiency rapidly and help them to meet current demand of facemasks and save lives.
Get Going with Mitsubishi Electric's Disposable Facemask Application
Mitsubishi Electric has always been at the forefront when it comes to supporting companies and manufacturers who are dependent on technology. Our Factory Automation team and several other departments joined hands to create a library of basic programs, Functional Blocks (FB), and Servo set-ups that act as sample programs which can be adapted for making a functional control system to produce facemasks. Named as the 'Facemask Application' (iQ Monozukuri: FACEMASK package), this will help in designing of the facemasks in a faster and more efficient way.
This application package is free to those looking for designing facemasks and is in accordance with Mitsubishi Electric's Factory Automation application packages.
Functional Blocks: Designing Masks Efficiently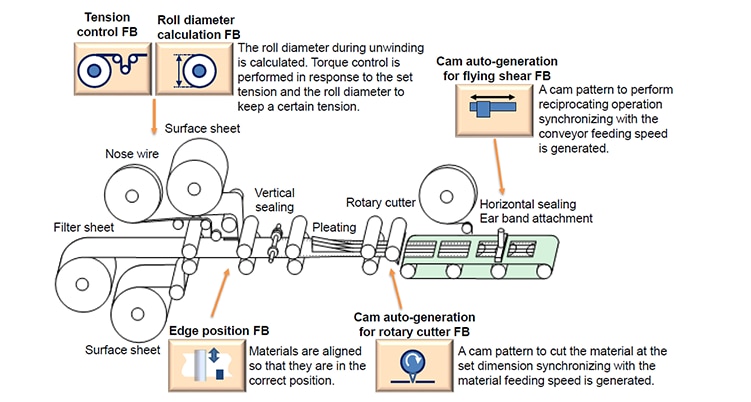 The non-availability of facemasks can be dealt with ease if there are methods of quicker production. As said before, these function blocks are here to assist designers and engineers. Let's see what the listed FB items are: -
| | | |
| --- | --- | --- |
| Functional Block Item | Name in the FB Library | Usage |
Cam auto generation
STD_MakeRotaryCutterCam
For rotary cutter
STD_MakeFlyingShearCam
For flying shear
Synchronization control
CtrlOutputAxisSync
To control output axis
Tension control
CNV_WinderTensionSensorlessCtr
For sensorless torque control
Roll diameter calculation
CNV_DiaCalcThickness
Integration method for web
thickness calculation
Filters
CNV_EdgePositionCtr
For correct edge positioning
Tuning function
PIDControl
For controlling and tuning PID
Filters
STD_Limiter
Standard limiter
*Designing the facemasks using the application is pretty simple. The designer has to simply drag and drop the functional blocks into the worksheet of GX Works3*.
If you are wondering what these functional blocks are used for, here's what you need to know: -
Rotary Cutter - This function helps in generating the required rotary cutter cam auto. You have to set parameters for the length and synchronization width of the worksheet; after which, a rotary cutter cam is generated automatically.
Flying Shear - Here again, it allows in automatic generation of flying shear cam when the parameters of the starting and ending synchronization are entered.
Tension Sensor less Torque Control - This function helps in calculating the torque without the use of any sensors, which further allows in the calculation of unwinding and rewinding torque.
Roll Diameter Calculation - As the name suggests, this functional block helps in calculating the roll diameter from the web thickness. It also helps in calculating the rotation amount of the winder axis.
Edge Position Control - It is used to calculate the velocity for correcting the position along with the help of the PID control, further enabling the accurate positioning of the edge.
*However, the one thing that the designer must ensure is that all the necessary safety and precautions are met. It is important to configure all the safety circuits, the output circuit, connection with any external device, and so on as per the instructions given in the manual.
Let's Work Together Towards the Greater Cause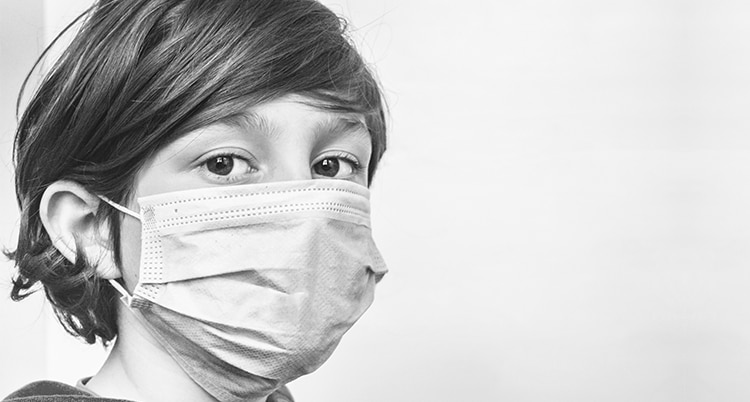 Overcoming the challenge of facemask crisis is crucial. As a socially responsible brand, it becomes our duty to help our customers get through this ordeal, which is why we are more than willing to utilise our core capabilities towards helping the society in this COVID-19 pandemic. At Mitsubishi Electric, the motto has always been clear - 'better done than said'. Visit to know more https://mitsubishielectric.in/fa/assista/