India, one of the lucky regions in the world which is blessed with all four seasons and monsoon is the one of the most soothing seasons which our country experiences mainly because it gives relief for the summer heat and people spend a lot of family time indoors grasping at the beauty of Mother nature during this season. Apart from enjoying the weather, we must be careful in this season about the maintenance of our AC and provide special attention towards its efficiency. A little care and maintenance can help your AC perform to the best of its ability and keep your monsoon comfortable.
Monsoons brings rain, thunder and dust along with high humidity which makes the operating condition for Air Conditioning systems challenging. Problems like abnormal noise, unusual odors, water leaking, and hefty electricity bill indicate that there is a need for preventive maintenance.
Benefits of Preventive Maintenance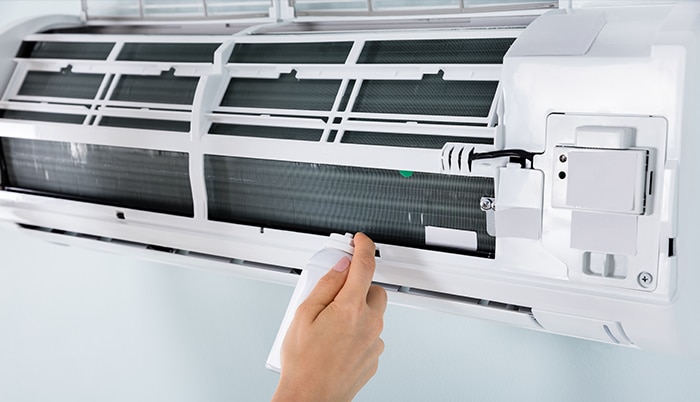 Like any other machine Air Conditioners also need preventive maintenance which helps in maximizing the comfort and extends AC's lifecycle. Apart from saving the machine from seasonal wear and tear, preventive maintenance of AC before the fall of monsoon improves air quality, decreases electricity consumption and helps the machine to perform optimally which leads to extended life of Air Conditioning System.
What you can do:
Few steps and measures are required to increase effectiveness of Air Conditioner during monsoon season:
Dry Mode: Use Dry Mode during the monsoon/high humid condition. Every Room Air Conditioner (RAC) product does have a dry mode on remote controllers.

Keep the surrounding of Outdoor Unit clean: Do not let any dirt deposit on it as once dirt gets settled, it takes a lot of time during cleaning. Unclean surroundings invite insects which are very common during monsoon. In order to keep the surrounding insect-free, it is necessary to keep the outdoor unit clean.

Clean filters: Regular cleaning of filters ensures best performance and reduces power consumption. Dirty filters cause condensation in the indoor unit AC which will contribute to the growth of fungi such as mold. It is therefore recommended to clean air filters every 2 weeks or as per filter choking frequency.

Do not operate: The Air conditioners should not be operated if the windows or outside doors are left open.

Ideal Temperature: Keep your air conditioners at ideal temperature 24-26-degree celsius for right amount of cooling and energy saving.

Appropriate Mode: Use appropriate mode (Cool, Heat, Dry, Fan) with respect to season for optimum output of indoor unit system.

Use Ceiling Fan: It pushes the hot air below in the room so that the AC outdoor unit exerts less pressure and cooling may be done smoothly.

Condensate Water: If condensate drain water line carries dust particles, then over a period it will clog drain pipe. In result, it may create water over flow or leakage trouble.

AC Performance: Do not install any heat generating & power converting device like LED TV, Computer etc. nearby air conditioners it may impact on system performance as well as erratic behavior of unit.
Mitsubishi Electric – Enhanced Immunity against Monsoon
Mitsubishi Electric's Room Air Conditioners comes loaded with cutting-edge features which acts as an additional protection cover against seasonal extremities such as:
Anti-corrosion coating
Anti-rust outdoor cabinets
Dual barrier coating which prevents dust and greasy dirt from getting into the AC
Microparticle catching filter
Anti-mold filter
High-density filter which eliminates PM 2.5 and catches smaller dusts which helps in maintaining clear air in the room
Auto reset in case of a power cut