Guided by the corporate statement, "Changes for the Better", Mitsubishi Electric has been operating in India since the 1950s and has grown to become one of the most highly regarded brands in the country. Offering a huge range of innovative products and solutions in the Indian market, Mitsubishi Electric India has always taken its responsibility as a corporate citizen very seriously. The brand's products are developed with superior energy efficiency, keeping the environment in mind. Apart from creating a sustainable product range, Mitsubishi Electric India also promotes several Corporate Social Responsibility (CSR) activities in India, enforcing corporate ethics and compliance.
Mitsubishi Electric India's focus on creating a sustainable society through its innovative products and solutions has also led to the introduction of the Clean Drinking Water Program which has been put in place to extend support to the rural areas of Gurugram.
The Clean Drinking Water Program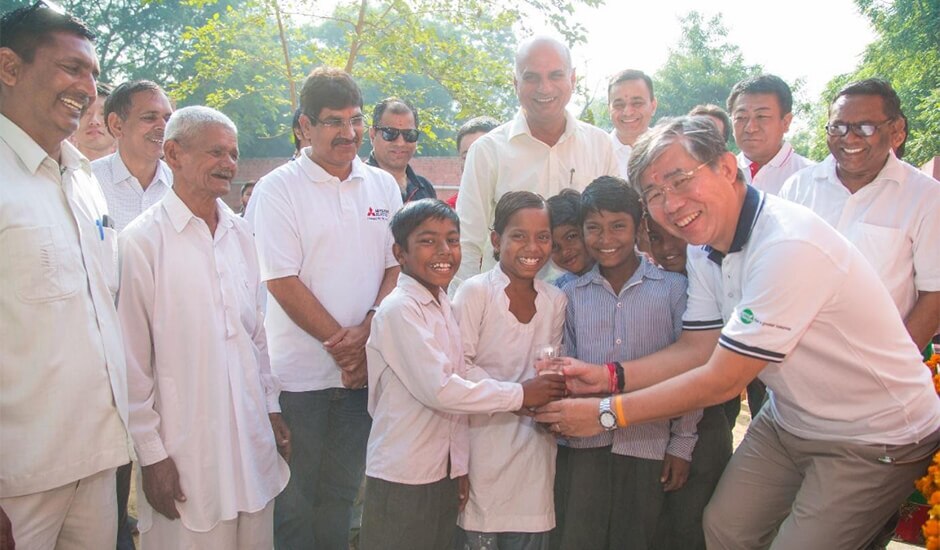 Under this program, the company aims to provide facilities for clean and cold drinking water to several government schools and also includes Mitsubishi Electric India looking after the upkeep and maintenance of these facilities. Almost 1500 students are going to benefit from this initiative undertaken by Mitsubishi Electric India. This year itself, 4 schools in rural Gurugram have received support under the Clean Drinking Water Program, which brings the total number of schools in the program in Gurugram to 9.
These initiatives are an extension of the CSR strategy by the organisation, initiated in 2018, covering UN Sustainable Development Goals (SDGs) of Clean Drinking Water & Sanitation and Climate Action. The initiative also supports the Swachh Bharat Abhiyan and National Mission for a Green India, with Mitsubishi Electric India striving to support the society as they focus on the 'necessities first'.
Mr. Katsunori Ushiku, Managing Director, Mitsubishi Electric India Pvt. Ltd., receiving warm welcome from the school kid.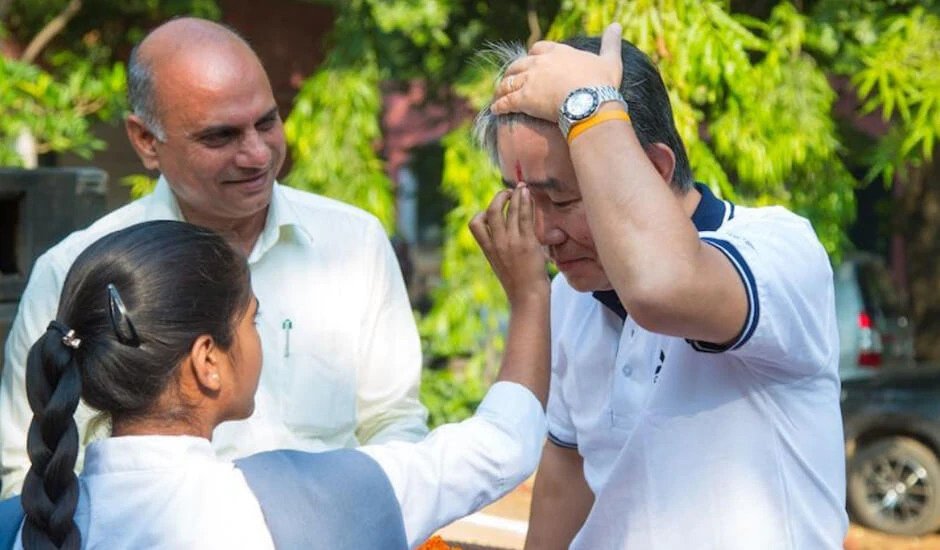 A drinking facility was inaugurated at the Government Senior Secondary School, Siwari in Farrukh Nagar, by Mr. Katsunori Ushiku, Managing Director of Mitsubishi Electric India Pvt. Ltd. The activities were attended by more than 50 employees of the Mitsubishi Electric Group Companies, where they also planted about 150 trees in the periphery of the school's playground.
As he addressed the occasion, Mr. Katsunori Ushiku expressed his happiness of attending the activity for the 2nd consecutive year. Last year in Rural Gurugram, we started with one school and this year we will cover 9 more schools with total 11 drinking water facility installations. The company will extend its support to more schools in coming years as well, thereby supporting to maintain a healthy ecosystem".
The drinking water facilities being installed by Mitsubishi Electric include a RO, water cooler and tank, and a drinking water bay for the students. Realising the need for sustainable development, Mitsubishi Electric India aims to continue contributing to society through its product range, solutions, and several CSR activities.