Mitsubishi Electric is consistently working towards innovation & technology. With nearly 100 years of experience in providing reliable, high-quality products, Mitsubishi Electric Corporation is a recognized world leader in the manufacture, marketing and sales of electrical and electronic equipment used in information processing and communications, space development and satellite communications, consumer electronics, industrial technology, energy, transportation and building equipment.
Mitsubishi Electric India Pvt. Ltd. has progressed to become a company that offers a wide range of innovative and high-quality products for the Indian market, including Air Conditioners, Factory Automation and Industrial Systems, Power Systems, Photovoltaic solutions, Semiconductors & Devices, Transportation Systems, and Visual & Imaging.
With an aim to facilitate "Changes for the Better", not only does Mitsubishi Electric aim to be a world leader in the industry, but also a green company that enriches society with its innovative technology.
Giving back to the community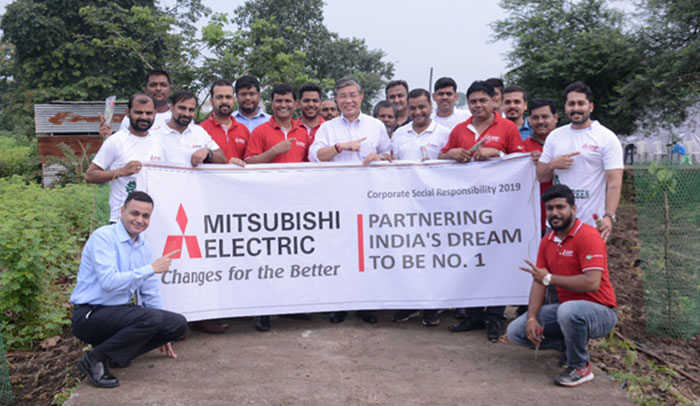 Mitsubishi Electric India has been working extensively on its CSR initiatives which have been categorised under Community Development, Climate Action, and Skill Development. These activities support the Sustainable Development Goals of the United Nation of "Quality Education, Clean Water & Sanitation, Good Health & Well-Being and Climate Action". In turn, these programs are also related to several missions by the Government of India, including Swachh Bharat Abhiyaan, Skill India, National Mission for a Green India, and National Rural Health Mission.
In line with the same mission, Mitsubishi Electric has been constantly introducing innovative technology that makes a positive contribution towards society, the latest endeavour of which is the Environmental Sustainability Vision 2050. With efforts and technologies to sustain a better future for all, the company has provided an environmental declaration that states to protect the air, land, and water.
Environmental Sustainability Vision 2050
The company launched its Environmental Sustainability Vision 2050 in June 2019 and to support this vision, Mitsubishi Electric India organised a tree plantation drive in Beltarodi Road, Nagpur. Nagpur is a growing city that has recently regained its position of being #1 in the Smart City Mission; it is also one of the cleanest and greenest cities in India.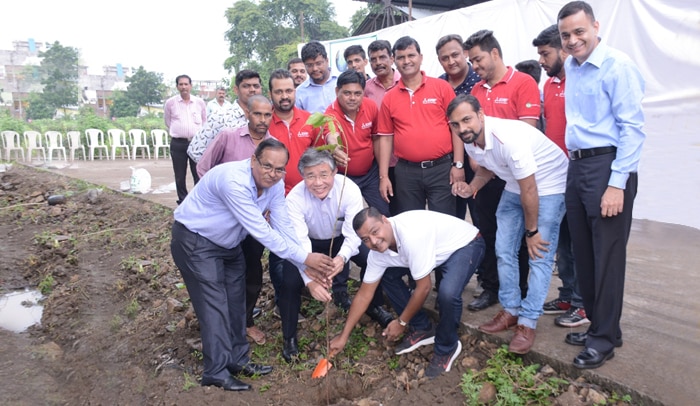 Employees of Mitsubishi Electric and 50 NGO volunteers planted 200 trees in the semi-urban area of Besa-Beltarodi. A range of evergreen trees was planted including Copper Pod, Kadam, Cassia Tower, Karanj, Neem, and Rain trees. Mitsubishi Electric India has taken the initiative to support the maintenance of the green cover in the city.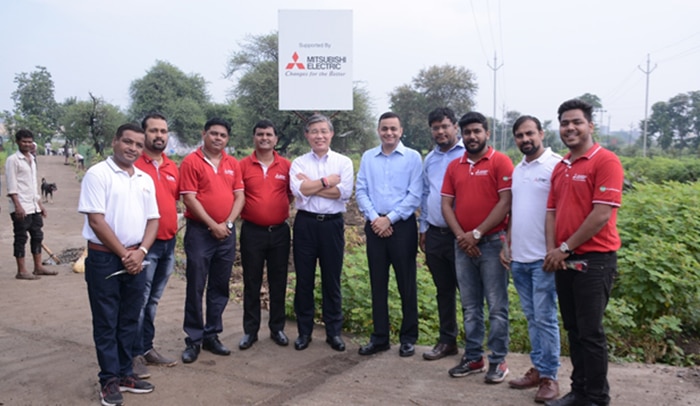 Speaking on the occasion, Mr. Katsunori Ushiku, the Managing Director of Mitsubishi Electric India Pvt. Ltd. said, that the aim is to protect the quality of the air, water, and soil around us; and this tree plantation is an initiative to create environmental balance. For Mitsubishi Electric India, this activity forms a part of the mission to identify cities where the company can carry out CSR activities in order to achieve the Sustainable Development Goals it has set for itself. With the hope that future generations can have a cleaner environment to breathe in, Mitsubishi Electric India plans to carry on with this momentum in the coming times.