The key to enhancing customer experience is by identifying basic customer touchpoints and work upon them to maximise customer satisfaction and make the customer's end-to-end journey better. Mitsubishi Electric is one of those companies that keep customer's perspective in mind while balancing marketing goals. As a global leader in air conditioning systems for commercial, industrial, and residential use; the brand ensures that the customers are satisfied and happy with its services when they connect with the sales staff, customer service, and the products.
Mitsubishi Electric India began its journey in India in 2010 and has completed 9 successful years in the country. The brand has always focused on ensuring connect between customers and dealers in the most effective manner possible. Furthermore, the company has always kept a pro-active approach and a diversified outlook. To keep in line with this approach, the Exclusive Concept-based showrooms were set up with an objective to create and improve brand visibility and ensure customer engagement in every part of India.
In addition to this, Mitsubishi Electric launched its first MEQ Hiroba in 2013 and MEQ Cooling Planet in 2014, where MEQ expands to 'Mitsubishi Electric Quality'. With both of these Exclusive Concept-based showrooms, the company provided a chance to its customers to touch and feel the products. MEQ forms the central part of the company's business and promises a supreme overall experience.
Customer Connect – Launching MEQ Hiroba & MEQ Cooling Planet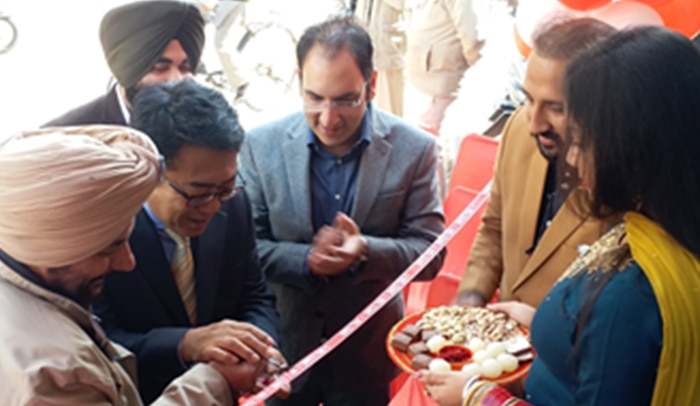 Mitsubishi Electric's exclusive Concept-based showroom displays the company's philosophy where it wishes to create an environment of quality and trust. Inaugurated in the year 2013, the 1st MEQ Hiroba was opened in association with Airwell Cooling Equipment, Panaji, Goa, which is one of our valued business partners. Opened with the purpose of targeting B2C customers in the market, the Concept-based showroom encourages commercial and residential customers to touch and feel the air conditioners by Mitsubishi Electric. These showrooms showcase and sell air-conditioning products. As per the current figures, there are 100 MEQ Hiroba(s) all over the country with many more upcoming ones in the future. Hiroba is derived from a Japanese word which actually translates to a 'plaza where people gather' or 'small place'.
The concept behind Hiroba is simple. A shop is eligible to get transformed to a Hiroba if it is of a minimum of 125 sq ft. The MEQ Hiroba has the area of 200 to 250 sq. ft. usually. On the other hand, the company conceptualized MEQ Cooling Planet to display their commercial range. This showroom has an area of 700 to 1000 sq. ft. and is targeted at B2B customers. The 1st MEQ Cooling Planet opened its doors in South city Aircon, Delhi in the year 2014. Being large-format exclusive showrooms, they are made with the purpose of giving the touch and feel of the vast variety of Mitsubishi Electric Air Conditioners, which include Packaged Air Conditioners, Room Air Conditioner, Jet Towels, Air Curtains, and City Multi VRF systems. The current count of MEQ Cooling Planet(s) across the country is 40. The company has an objective to expand them in the years ahead.
The idea behind selecting the names Hiroba and Cooling Planet was to connect customers with innovative Japanese Technology. These Cooling Planets double up as experience zones for B2B audiences and the Hiroba's work as experience zones for B2C audiences.
Pledge for Better After-Sales Service Experience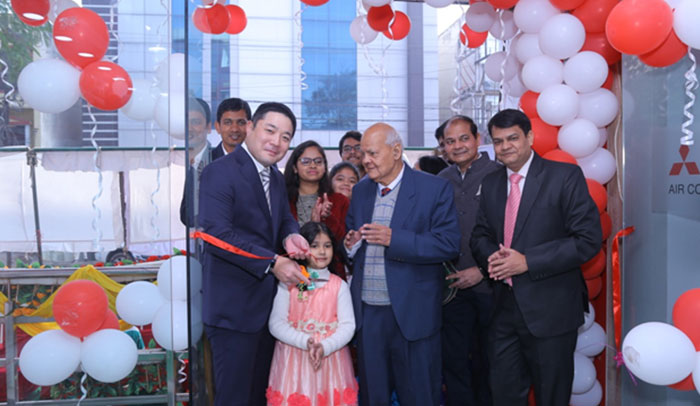 Mitsubishi Electric India has inaugurated an exclusive service provider called MEQ Senmonka that is a one-stop solution for air conditioning products by the company. This initiative has been taken in order to improve post-sales service and build long-lasting customer relationships. The Japanese word "Senmonka" means "Specialist" and hence MEQ Senmonka is a specialist that works to facilitate customer engagement and experience for every service-related query. It will also provide much-needed assistance if required.
The 1st exclusive service showroom was opened in Ludhiana, Punjab in 2018. At present, MEQ Senmonka is present in 4 locations, namely Ludhiana, Ghaziabad, Mumbai, and Mehsana (Gujarat). To further strengthen the company's image and to see itself as a leading player in the consumer air-conditioner segment, Mitsubishi Electric India has planned to open these types of exclusive service providers across the country. These exclusive service providers will facilitate after-sales-service for air-conditioning products by Mitsubishi Electric.
Additionally, Mitsubishi Electric Air Conditioning Systems has built up a solid sales and service team to support the customers in an efficient way.
Our Growth Journey
Mitsubishi Electric is a premium brand that is confident about its dedicated channel partners, products, services, and quality showrooms. Because of this, the company wants to maximise the count of showrooms by keeping every minor and major market on its target. During its network expansion, the company will make sure that after-sales support, quality, and other deliverables are not compromised.
It has strategized showroom launches in metro cities. Along with this, it is also extending showroom space in Tier 2 and Tier 3. One can look for these showrooms close to a city's Electronic Market. The showrooms are made in a way that the customers get a live demo of the products so that they can purchase products with confidence. Mitsubishi Electric Living Environment sales & service network consists of 16 satellite offices, 19 branch offices, 850 Specialist Sales & Service Dealers (SSDs), and 140+ exclusive showrooms in India. Mitsubishi Electric India has planned to open these types of centres all over India as an important step in improving product know-how and also helping towards skill development.
Challenges in Networking
In the early years of journey, Mitsubishi Electric saw challenges which were associated with creating awareness among its customers about its air conditioning products and services and also for creating a market presence. The company also faced obstacles in channelizing product delivery and Dealer-to-Dealer Association management.
Partnering India's Dream to be No.1
The company is putting constant efforts in order to provide best-in-class services with its air conditioning systems. Steps are taken for partnership with India with the topmost priority being customer's brand awareness. In all, Mitsubishi Electric believes in delivering high-quality products and contributes to less e-waste generation in the end.
So, you can see how far Mitsubishi Electric has come to improve customer engagement and the customer experience in India. The brand has a firm belief in customer satisfaction and thereby delivers high-quality products to provide the best customer experience that results in happy customers.