Mitsubishi Electric started its business operations in India in the late 1950s. Over the years, the company has built its reputation as a reliable brand by offering an efficient and sustainable range of products. The new corporate strategy of the company involves adopting new Corporate Social Responsibility (CSR) initiatives in India. This is being done to address diversifying social challenges in Life, Industry, Infrastructure, and Mobility.
Considering the environmental and social impact of business decisions made by the company, Mitsubishi Electric India aims to ensure having a positive impact on the environment and on society.
The company has a comprehensive CSR strategy in place that supports the United Nations Sustainable Development Goals, as well as several of the initiatives that have been launched by the Government of India. Mitsubishi Electric India's CSR initiatives can broadly be categorised as follows :-
1. Skill Development Project with Colleges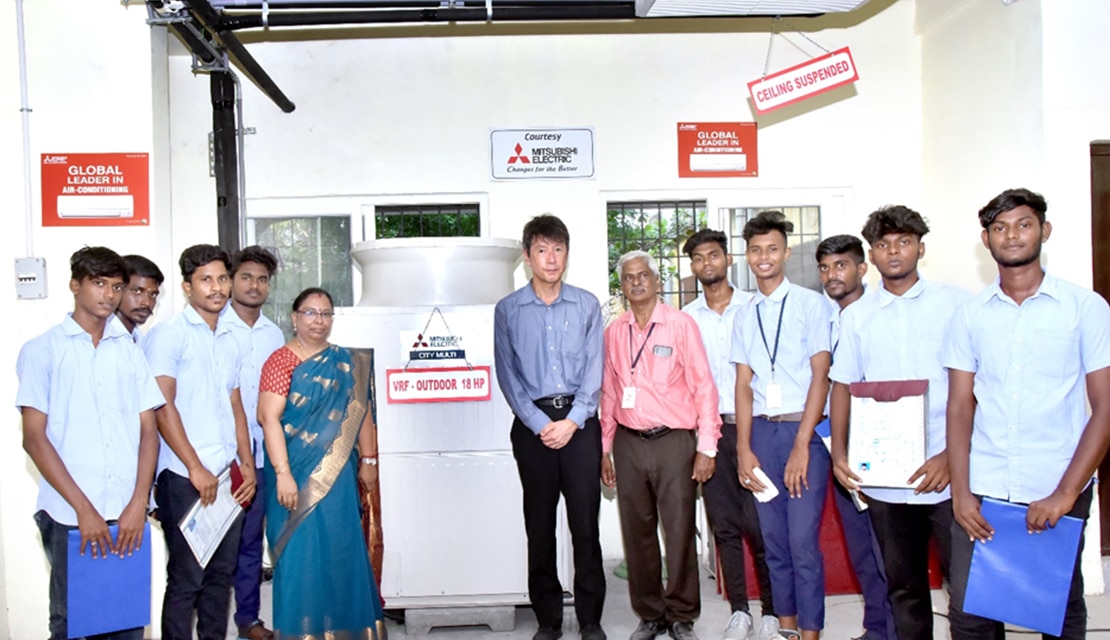 In order to promote education and practical learning, Mitsubishi Electric India provided SCADA and FA learning kits to Shri Vaishnav Vidyapeeth Vishwavidyalaya, located in Indore, Madhya Pradesh. Further, in line with an aim to help the current generation inculcate important skills, the company also supported the Manav Rachna International Institute of Research & Studies and PSG College of Technology, located in Faridabad and Coimbatore, respectively, in setting up their Semiconductor and Devices labs, by providing equipment and quality training sessions to help create better learning opportunities for the students.
Extending its support to the Vocational Training Centre at the Rotary Club of the Madras Marina Trust, located in Chennai, Mitsubishi Electric India provided refrigeration and air conditioning equipment for their Aircon Lab setup, and provided training sessions, along with a grant for the operational expenses of the institution. The company believes that its initiatives will help in upskilling the youth and help create better economic opportunities for them in the future. Under another initiative, the company installed air conditioners at the Kalinga Institute of Social Sciences to ensure a comfortable learning environment for students.
This skill development program benefitted around 30,500 students from colleges across India, which makes it a significant step towards building an empowered nation and bringing about a significant transformation in society.
2. Community Development Program for Government Institutions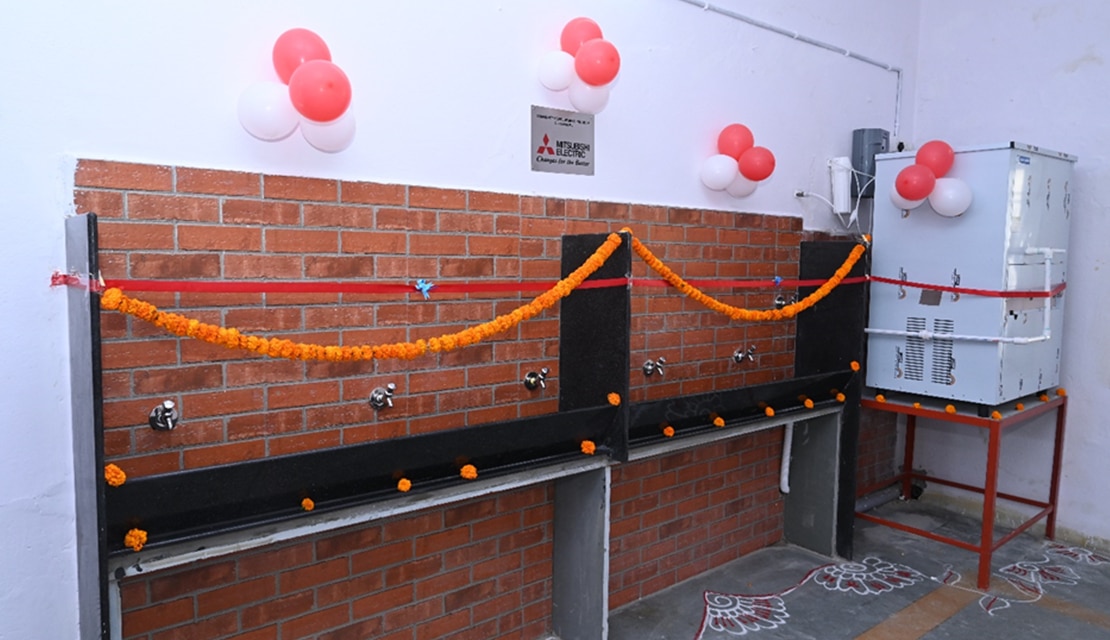 Mitsubishi Electric India, under its philanthropic activities, has installed RO water purification systems to provide 43 schools with clean drinking water, across 10 cities and continues to support them by providing regular upkeep and maintenance, which benefits approximately 17,602 students.
Corporate Social Responsibility is not a one-time activity for Mitsubishi Electric India, but a way of life. Be it the products, solutions, or technologies, the fundamentals of the company emphasize serving society in the best possible way. In 2021, the company provided support to 15 government institutions from around 10 cities that house its business operations, all in a bid to intensify its community development program. The company has also installed several air conditioners at government schools, hospitals, ITIs, and public health centres, which were in dire need of advancement and development.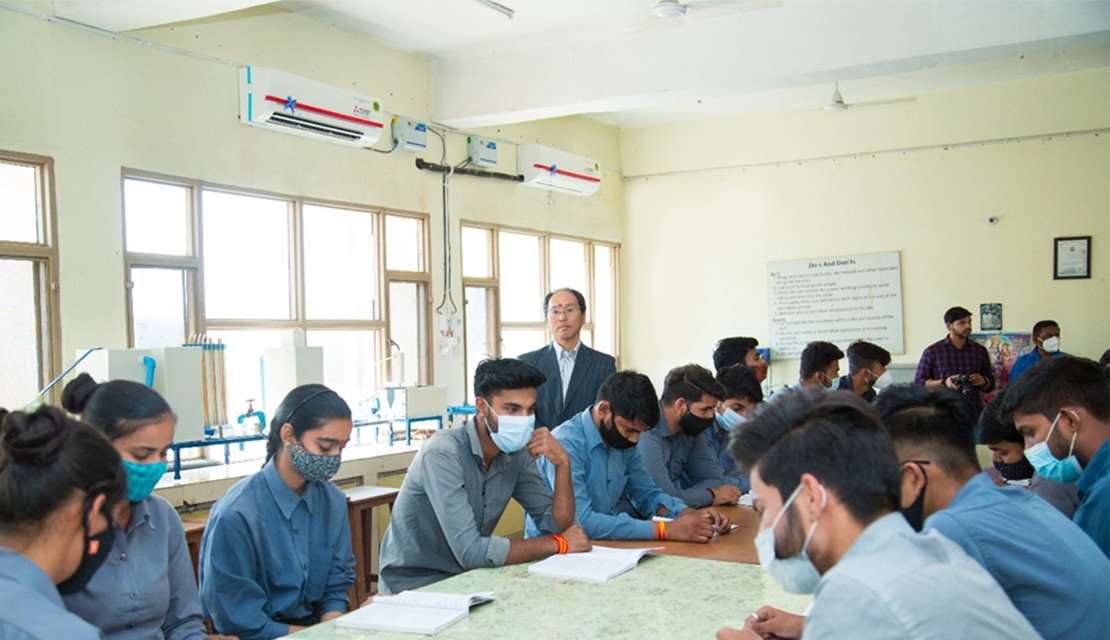 The purpose of the company's community development program is to support government institutions from all over the country, that at present are positively impacting approximately 49,104 beneficiaries from the weaker sections of society, to further their sustainable growth initiatives.
The air conditioners installed at government ITIs and schools, located in Gurugram and Delhi, respectively, were inaugurated by Mr. Kazuhiko Tamura, Managing Director, Mitsubishi Electric India Pvt Ltd, where he also planted a sapling in a bid to contribute to building a greener tomorrow. The launch activities were followed by a variety of inauguration events organized at Bengaluru, Pune, Chandigarh, Ahmedabad, Indore, Surat, Kolkata, Chennai, and Lucknow.
3. Good Health and Well-Being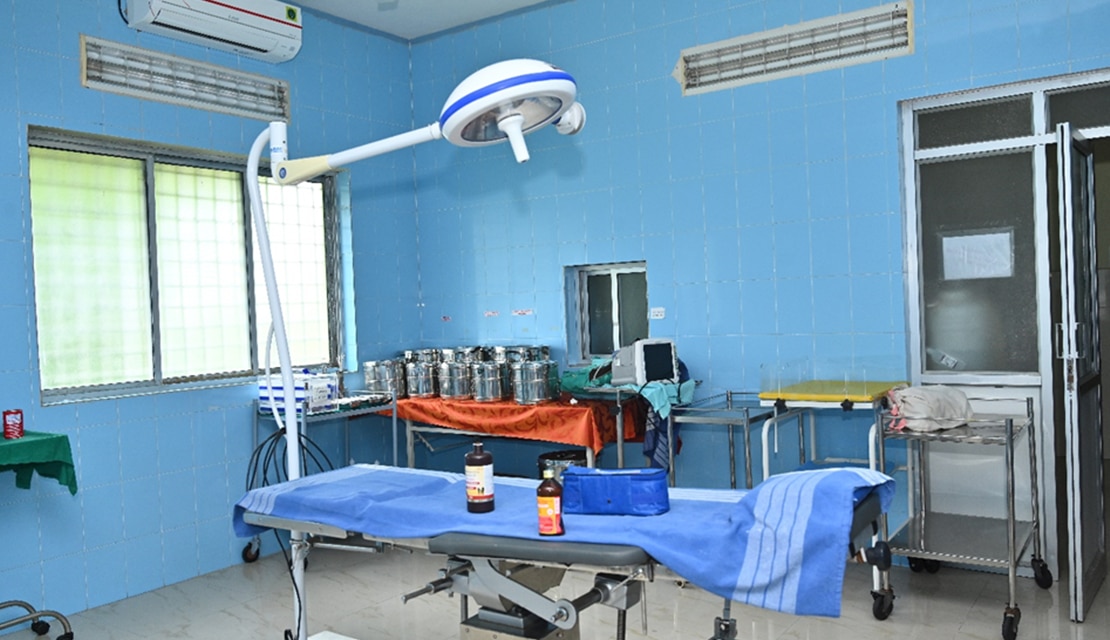 Having observed how the first and second waves of COVID-19 affected almost every part of India, Mitsubishi Electric India renewed its commitment to supporting the country in helping save lives, by providing healthcare facilities through its Good Health and Well-Being Initiative. The company extended its support to MIDC, providing Oxygen Tankers to the Maharashtra Government, which in turn helped provide the much-needed oxygen supply across all areas of the state. The purpose of this activity is to enhance access to healthcare facilities for every section of society.
Extending its reach under this program, the company also installed air conditioners in 7 government hospitals and public health centres in areas located around Bidadi, Bangalore, to help create a comfortable and hygienic environment where the vulnerable sections of the society can seek healthcare.
4. Climate Action
To ensure a sustainable future for all, Mitsubishi Electric India has been playing its role in society for the past 7 years, with its Tree Plantation Activities. Every year, the company takes the initiative of planting new saplings in and around Pune and maintains them throughout the year. Since 2015, Mitsubishi Electric India has planted approximately 3000 saplings in the area and has ensured continued support by keeping an eye on and maintaining these trees.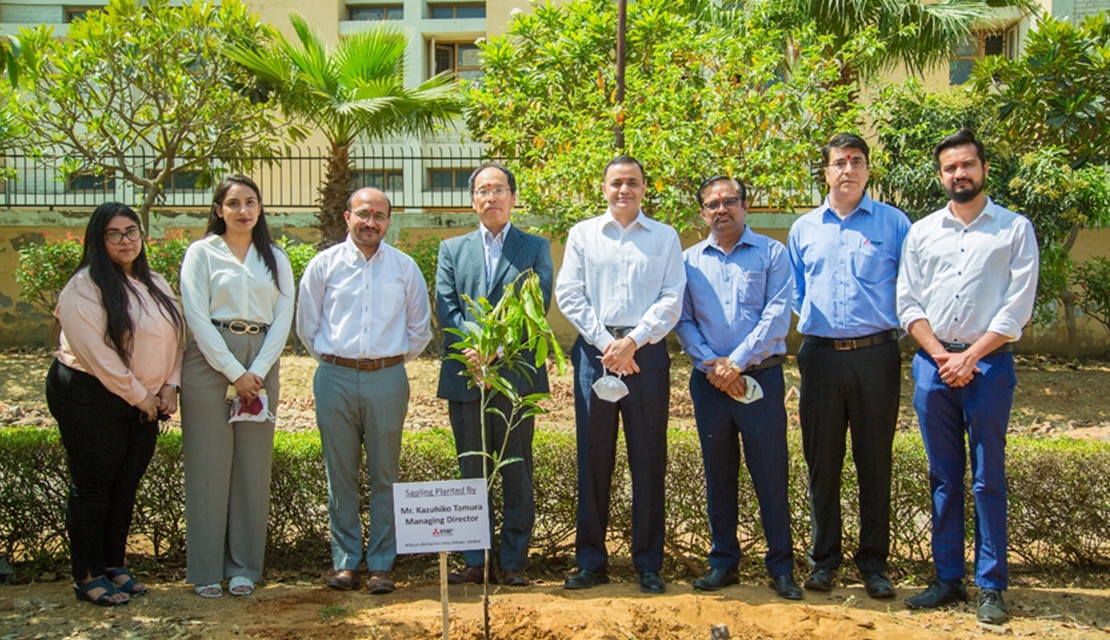 Mitsubishi Electric India is aware of the urgent need of proactive action for sustainability and development in society, and aims to contribute bit by bit towards betterment through its products, solutions, and numerous philanthropic initiatives for the upliftment of society.