Rapid Infrastructural and Economic growth in India will foresee an era of evolution for the Data Centre industry in the upcoming years. Digitization and technological advancement have resulted in the development of numerous IT tools like Artificial Intelligence, Machine Learning, IoT, etc. which have helped the Data Centre industry to pace up post the COVID-19 era. Data Centres in India are spread across Tier-1 cities like Chennai, Mumbai, etc. as of now, however, the growth of the industry will drive the widespread establishment of Data Centres across the nation. Moving forward in this line, the government itself is supporting and promoting e-governance which is resulting in the surge in the demand for Data Centres in India to meet the dire need for storage and management of data in various businesses. Mitsubishi Electric, with its reliable and efficient solutions, aims to support the intricate infrastructure of the Data Centres in India.
Advance Data Centres these days are equipped with an array of technical and IT elements which include servers, routers, switches, etc. that are backed with strong infrastructural support. With an aim to scale up India to become a global hub for Data Centres, Mitsubishi Electric is providing solutions that can support and secure the growth of India's data centre infrastructure.
Looking at the increasing demand and rapid growth of this industry in India, Mitsubishi Electric is offering numerous electrical, mechanical, and communication solutions that are majorly created to support data centre expansion and operations across the nation.
Mitsubishi Electric India offers robust and efficient solutions that are listed below to support the growth of Data Centres in India: -
1. IT Cooling and Comfort Cooling Systems: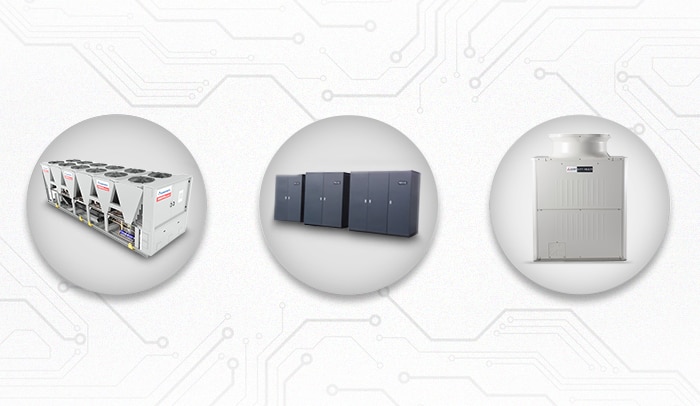 When it comes to data centres and server rooms, it is imperative that the servers and IT equipment are kept in optimal conditions at all times. Mitsubishi Electric's HVAC systems are highly reliable and are capable of keeping operating costs low by being energy-saving in nature. This helps achieve low power usage effectiveness (PUE)—an aspect that is desirable for data centres. These establishments require high cooling temperatures and major load variations due to the humidity and dense heat loads. Hence, efficient IT cooling systems are the need of the hour for its operations. Mitsubishi Electric offers solutions like Chillers, Precision Air Conditioning (PAC), and Variable Refrigerant Flow (VRF) that come with Advanced Inverter Technology, compact footprint, and more to support the smooth operations of any Data Centre.
2. Power Distribution System: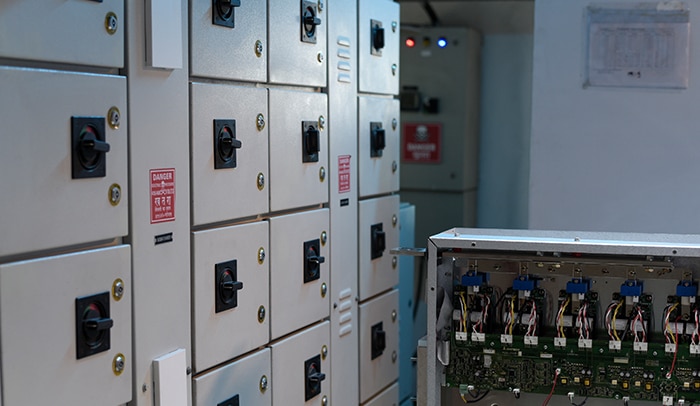 Durable and Reliable Power Distribution Systems are required for the stable operation and security of the Data Centres. Medium Voltage Switchgears (MVS), Low Voltage Switchgears (LVS), and Energy Saving Supporting Devices are the solutions offered by Mitsubishi Electric to ensure smooth distribution of power basis the need of the operation. LVS provides electrical protection against overload currents, short circuit currents & insulation failures. Mitsubishi Electric's Metta IEC 61439 is state-of-the-art LV power switchgear and control gear for low voltage power control centre & motor control centre. It is flexible, user-friendly, safe and reliable, and its switchgear and control gear assembly conforms to the latest IEC61439-1&2 standard.
Also, the Low Voltage Circuit Breaker and Medium Voltage Circuit Breaker are futuristic and environment-friendly devices which are available to meet the needs of both the power distribution and machinery markets.
3. Elevators: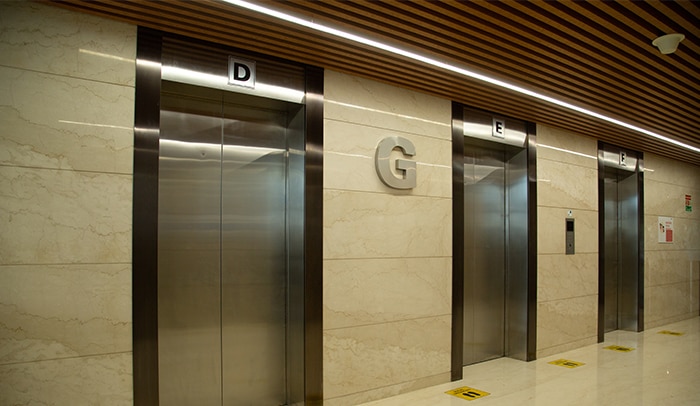 Smooth Vertical Transportation is a necessity for robust civil infrastructure. Mitsubishi Elevator India, a subsidiary of Mitsubishi Electric designs, customizes, and maintains elevators with a variety of world-class technologies and functions that save energy, and improve efficiency and convenience based on the situational requirement of any Data Centre.
4. Monitoring and Control: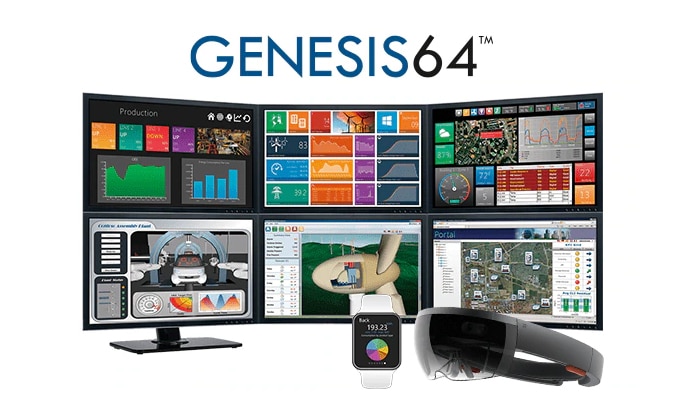 Integrated Building Management System (iBMS) is a single comprehensive Building Management System that allows for the integration of HVAC, fire alarms, public address, access control, security, lighting, and other systems of a data centre. Mitsubishi Electric comes with an iBMS that is designed using an advanced iQ-R platform to offer scalable and flexible configuration. The iBMS offer in-house design, engineering, development, and commissioning capabilities. It also includes an exclusive project management team as well as an FA call centre for remote support, ensuring quick response for all service calls. Other features of the iBMS include:
Seamless Connectivity to Modbus RTU, TCP/IP, BACnet, SNMP Devices
Seamless DB /ERP Connectivity
Secure Architecture
User Access and Privilege Management
Attractive 2D/3D Graphics with Advanced Animation Techniques
Customised Reporting, SMS, and Email Alerts
In-Depth Energy Analytics
SCADA system by Mitsubishi Electric called GENESIS64 is the most innovative software for Data Visualization and Data Collection for iBMS. Its 3D graphics increase the amount of information that can be displayed on a single screen by efficiently consolidating information, thereby improving supervisory capabilities. Supporting real-time and historical alarms, it allows users to not only supervise and be notified of the status of processes but also to easily identify them at a glance by displaying multiple trend graphs and heat-mapping data sets. The software is equipped with technologies that cater to improved user experience, energy savings, cost savings, and preventive maintenance.
PLC (Programmable Logic Controller) is another durable product range offered by Mitsubishi Electric to improve the monitoring and control systems of a data centre used to control building air conditioners and general industrial machinery.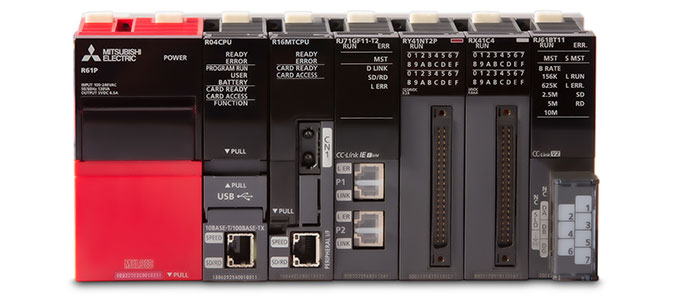 5. Inverters: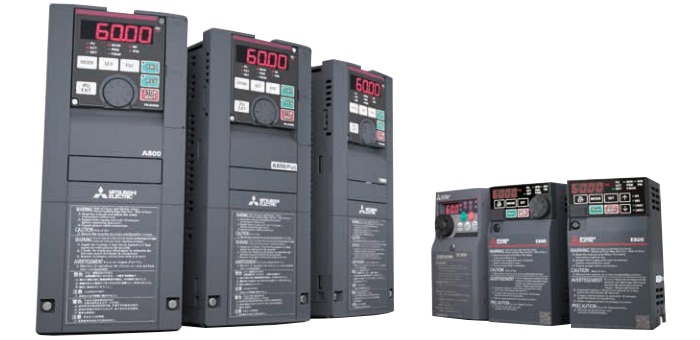 The power consumed by Air Conditioning Systems in Data Centres and other facilities is largely consumed by the motors that drive the compressors and blowers. Mitsubishi Electric inverters promote the development of miniaturized, high-efficiency, and high-output technologies for motors and contribute to the visualization and promotion of energy-saving characteristics and resource-saving. Along with that, it also supports the stable operation of facilities with reduced downtime.
6. UPS Solutions:
Uninterrupted power supply systems form a critical component of Data Centre power infrastructure. Keeping business criticality in mind and understanding the need for reliable power to circumvent financial risks associated with downtime in Data Centres, Mitsubishi Electric offers UPS systems that can be integrated into Data Centres to provide uninterrupted power quality even when the primary supply is affected, thereby working as a strong power backup support.