In this growing era of digitalization and innovative technologies, the focus of manufacturing has shifted to smart manufacturing because of the power of integrated automation process which helps us to manage the production processes smoothly and identifies the errors and helps to proactively initiate corresponding corrective actions.
Smart Manufacturing is a blend of various innovations that joins to improve the Efficiency and the Productivity of the manufacturing process. It includes several manufacturing processes that use big data processing capabilities, industrial connectivity devices and advanced robotics for controlling manufacturing operations smoothly.
What is e-F@ctory?
Mitsubishi Electric's e-F@ctory is a comprehensive solution that leverages latest digital technology such as big data, IIoT, Edge Computing, Advanced Robotics and offers a technological ecosystem which helps end user to achieve digital transformation in their manufacturing environment.
Its core edge computing gathers data from the shopfloor which brings computation and data storage closer to achieve data connectivity with optimal efficiency. It also makes the technology to process easier, which deploys as well as run a wider range of applications on it severs at one go.
Streamlining all Tasks with e-F@ctory: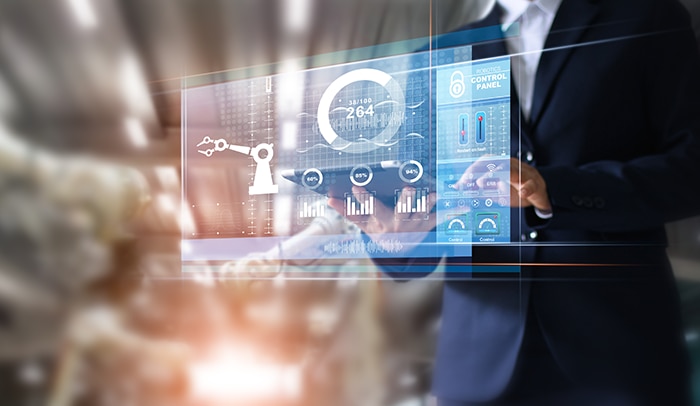 e-F@ctory has helped many companies to solve various issues with their optimal solution which streamlines the tasks at the shopfloor with:
Productivity – e-F@ctory offers complete management of production information by real-time monitoring of operation status for all production processes at an equipment level. Collection and analysis of shop-floor data identify cause behind problems and swift improvement. By utilizing MAISART – Mitsubishi Electric's Artificial Intelligence (AI) along with Industrial Robots on the manufacturing shopfloor, e-F@ctory creates an environment where human and robots operate simultaneously, thus improves operating rate of line with long man-hours, supports production that is high-mix, small volume and high cycle. Please read to know more: https://dl.mitsubishielectric.com/dl/fa/document/catalog/melipc/l08578eng/l08578engc.pdf


Quality - By utilization of MAISART AI Technology which uses deep learning and reinforcement learning techniques, a system can detect the anomalies in the process by identifying rare items, observations, patterns that significantly differs from the normal items or the patterns and provides real-time feedback to improve processes to avoid rejections and thus improves quality.


Safety and Security - e-F@ctory contributes to the safe and secure production environment through high performance visualization and inspection systems using 3D Modelling, network cameras and high-speed sensors.


Preventive Maintenance: By introducing the e-F@ctory Starter Package that leverages Internet of Things (IoT), the system helps to maximize equipment accessibility and predict manufacturing defects whilst providing corrective measures before any obstacle arises.
e-F@ctory: Connect Everything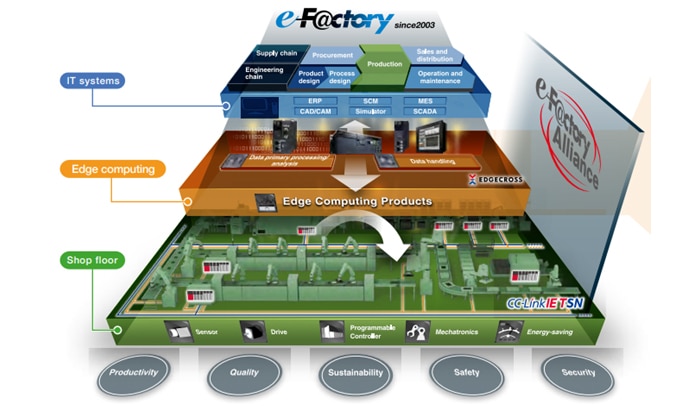 For a smart factory to be achievable, the real-time utilization of production shop-floor data and efficient connectivity with IT systems is essential. With e-F@ctory, by utilizing "edge computing," a technological concept for information processing between the shopfloor and IT systems, it is possible to achieve data connectivity with optimal efficiency. e-F@ctory contributes at three different layers of manufacturing which are as follows:
1. The Shop Floor: At this layer, e-F@ctory collects data through its data collectors, regardless of the device manufacturer or network, whether it is a legacy system or new systems. By utilizing its core products such as MES Interface Card (for databased connectivity), OPC UA Server Module (to connect OPC clients) and ICONICS Data Visualization Suits, e-F@ctory offers complete tracking of data communication, visualization and analysis of manufacturing shopfloor.


2. The Edge Computing: At this layer, e-F@ctory utilizes its "MELIPC" Industrial Computer and Edgecross open Software Platform that controls the collection, processing and diagnosis and feedback of data utilized in edge computing. Software platform abstracts hierarchical management of production floor lines, equipment and devices. This layer offers connectivity to Enterprise and Cloud based Systems.


3. The IT system: At this layer, e-F@ctory connects to Enterprise Systems such as ERP that helps complete production planning and control and streamlines the execution of manufacturing processes. By utilizing its Edge Application such as Real Time Data Analyzer (RDA) which is data analysis / diagnosis software equipment with abundant statistical methods and AI, e-F@ctory enables offline analysis and real-time diagnosis of a wide variety of data from the shopfloor. The utilization of AI MAISART waveform recognition technology and statistical methods such Mahalanobis-Taguchi method and multiple regression analysis in RDA, enables detection of faults within the system and find unknown estimations.
Empowering Industries with e-F@ctory
1) Electric / Electronics Segment – In order to reduce human errors, like in part loading, surface implementation, PCB assembly, unit assembly and shipment. e-F@ctory helps them by providing robots equipped solution with force sensors and work support systems which helps prevent mistakes, notifies about the shortages, and reduce time.


2) Automotive/ Automotive Parts Segment- By offering optimal solutions through forming common platforms and alliances with many different partners. e-F@ctory solves various issues like responding to mixed production schedules and improves production speed and quality. This solution also improves the production volume, can be monitored in real-time, shortens the inspection time, correct process sequence and nozzle position and can inspect the history.


3) Food and Beverage Segment- The demand to maintain quality and efficiency, e-F@ctory provides solutions like versatile visualization and inspection systems using cameras and sensors which helps to solve issues like maintaining temperatures, humidity, and pressure, reduce equipment set-up changeover time, improve food traceability, and to perform multifaceted inspections. By this, it improves the productivity and quality, improves nozzle control, Synchronization with high-speed, inspects through high performance visualization and forecast information of production line.


4) Distribution Segment- To operate together as a single system, e-F@ctory helps them with a high-speed sorting system, promotion of automation, predictive maintenance using remote monitoring, and other innovative features which will aid in high-speed control utilizing, quick loading/unloading, real-time data collection through the network, power outage countermeasures using a UPS and many more.
India, as a growing manufacturing hub, needs advanced technology to help wide-ranging indigenous to large-scale manufacturers. We, at Mitsubishi Electric, are helping the manufacturers to start their journey in digital transformation with e-F@ctory that proposes an optimal solution by connecting all levels of manufacturing processes. Besides this, the e-F@ctory solution supports each industry type which can achieve enhanced optimization with higher productivity and efficiency in the organization. Thereby, making optimal utilization of the resources through effectively implementing them in a cost-efficient system.
Working Towards Making India Self-Reliant
Mitsubishi Electric Factory Automation Systems (FA) aim to become the trusted partner for businesses targeting global and future-oriented development. Mitsubishi Electric (FA) is helping the Indian manufacturing industry with solutions that cover targeted segments for the country's growth. This step is being undertaken to support the Government's 'Make in India' initiative among manufacturers all over the country, ensuring that AtmaNirbhar Bharat is high quality as well.