With the revolution being affected by Industry 4.0, the world of automation has advanced like never before. Gone are the times when numerical controls were just about servomechanisms. Today, we are in the era of Computerised Numerical Control (CNC) systems. The invention of these control systems has helped in many ways, starting right from simple turning to complex machining. Even more interesting are the controllers used to operate these CNC systems. Mitsubishi Electric always aims to partner with brands that focus on global and future-oriented development. Keeping up with that, we have come up with a whole new package of controllers that back the CNC systems. But, before we get to that, know what Computerised Numerical Control Systems are.
CNC Systems: An Overview
An automated method of controlling machine tools, 3D printers, and so on through the use of software-programmed micro controllers, Computerised Numerical Control (CNC) systems have helped in achieving the required specifications and output in a much faster way, that too with less or no manual intervention.
CNC systems are instructed using sequential programs like the G-code or M-code that are either written by the coder or generated with the help of computer-aided manufacturing (CAM) systems. However, depending upon its area of application, the codes may be sliced or modified accordingly. The microcontroller unit or the controller where the coded programs are stored is attached to the machine unit. With the constant advancement in technology, CNC systems have found use in a variety of industries, including electronics and healthcare.
Contribution of Mitsubishi Electric in CNC Systems
Mitsubishi Electric India established its CNC manufacturing unit in the year 2013 to facilitate robust, responsive, and faster assembly of products. Our CNC products are precisely programmed that offers accuracy and productivity. Over the years, we have come up with various CNC products like the M70, C70, M80, C80 and E80 series to name a few, which helped us in setting a benchmark in the industry. And now, with an advanced package of controllers, Mitsubishi Electric is all set to offer the latest line up of its M80 series that is designed with leading-edge solutions. With features like the 4th generation super smooth surface control coupled with distinctive performance and CNC dedicated CPU, the latest addition to the M80 series contributes to giving you smoother operation, lesser wastage, and higher profit.
The Latest Product Line-Up of the M80 Series
M80 HS-Pro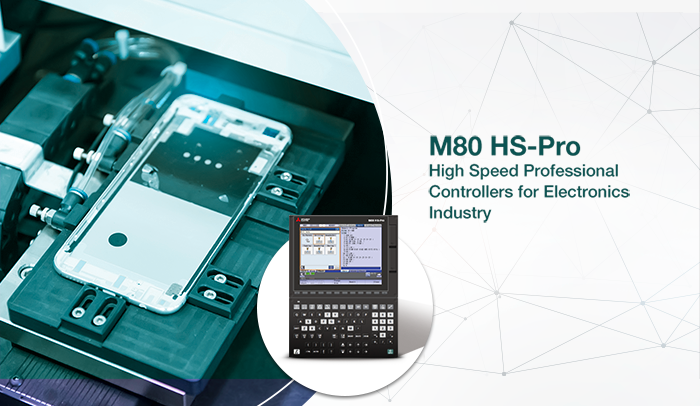 India is the second-largest mobile phone manufacturer in the world. The mass production of such electronic products relies on faster and more efficient controllers that can easily meet the industry requirements. To ensure the same, Mitsubishi Electric has come up with a high-speed professional controller package that is aimed at the electronic segment of the country. Named the M80 HS-Pro, this controller comes with features like: –
High-Speed Spindle Motors
Overlap function for cycle time reduction
OMR-DD2 High-Speed High Accuracy Tapping function
Interactive Cycle Insertion
Low Inertia Spindle Motor
Through Coolant
Other than these, the M80 HS-Pro also includes Realtime Servo Tuning, Multi-Tool Management Function, Preventive Maintenance Function, Intelligent Rigid Tapping, and so on that allows for effective machine management.
M80 Med-Pro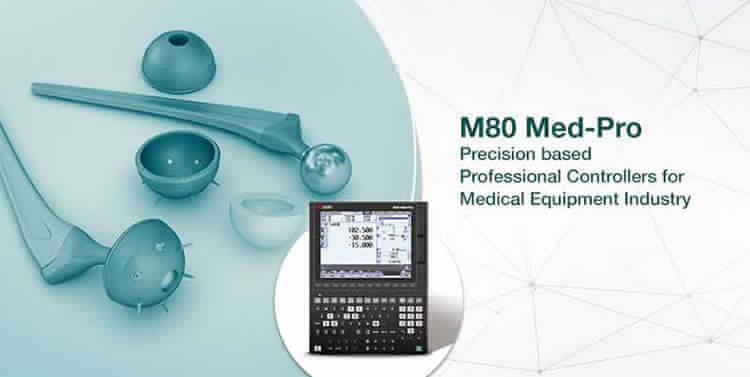 With the increase in the ageing population, there arises a greater demand for medical equipment and machines that are extremely precise in their operation. A professional controller package for the medical industry, the M80 Med-Pro is going to help meet this increasing demand, enabling medical equipment manufacturers to come up with precision machining products. The M80 Med-Pro is equipped with several features like: –
Higher Block processing of up to 67.5 kb/min
4th Generation Super Smooth Surface
Tolerance Control Function
Spline Interpolation
Machine-Cut Condition Selection
Along with these features, the M80 Med-Pro also comes with benefits like Tool Management Functions and Smart Cycles that allows for probe interface, which helps in improving the precision and quality of the medical equipment. We are offering this CNC unit as a part-production for the medical sector.
M80 Die-Pro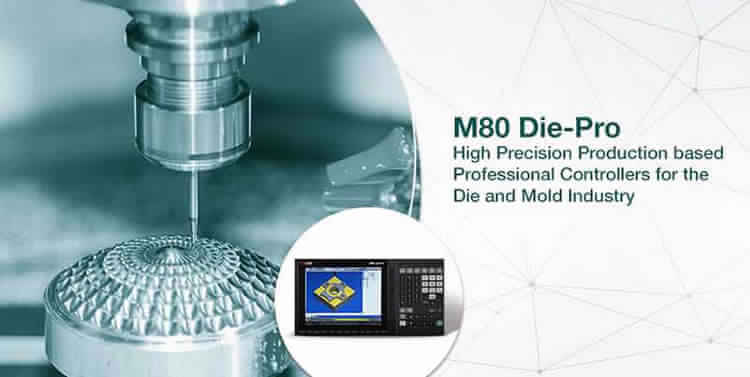 The Die and Mold Market has seen fantastic growth over the years. Targeted for the die and mold manufacturing sector, the M80 Die-Pro is a professional controller package that is designed to allow for high precision production of die and molds. This controller unit is equipped with a SD Card that comes under the Single Level Cell (SLC) technology of Mitsubishi Electric's CNC system. Other than these, other key specifications include: –
Higher Block Processing up to 135 kb/min
Spline Interpolation
Machine-Cut Condition Selection
Tolerance Control Function
Super Smooth Surface 4th Generation
The M80 Die-Pro is equipped with other features like Real-time Tuning-Gain and Time constants, Smart Thermal Compensation, and Spindle Adaptive Control which allows for effective control at all levels.
M80 Multi-Pro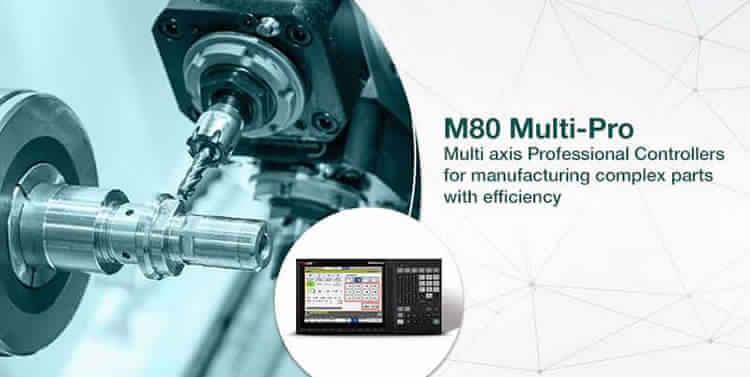 A multi-axis professional package, this controller allows for the delivery of close tolerance components, thereby offering better flexibility and innovative machining technology. This, in turn, helps in a significant reduction in the overall machining time required and enables a way of giving customers the best solution through one set-up itself.
Multi-axis controllers like the M80 Multi-Pro also increase part-by-part accuracy and allow for the manufacturing of complex parts in a highly optimised manner. The key features of M80 Multi-Pro include: –
Multiple Spindle Synchronisation Control
Interactive Cycle Insertion Function
Direct Robot Control Function
Thread Re-Cutting Function
Multi-Axis Multi-Path System Machining
This controller is in mass-production for the high-end turn segment and comes with benefits like Gantry Path Screen, Smart Gantry axis teaching screens, and Chuck & Tailstock barrier defining screens that help inefficient monitoring of the machine.
The M80 series by Mitsubishi Electric has been a favourite because of its outstanding performance that is combined with better finish, resulting in higher productivity of businesses.
With these latest products in the CNC system, Mitsubishi Electric is now on its journey along with the esteemed customers to achieve their dreams and helps strengthen the expertise of manufacturers to build and deliver such high-quality products. It lives up to the 'Make in India' initiative which will help India become self-reliant!
Visit to know more: https://mitsubishielectric.in/fa/fa-cnc-packages.html