A helping hand is good but one which is accurate and consistent is even better. The Industrial IoT revolution has heralded automation like never before - men and machines are now sharing workspaces and working together.
Is it difficult to believe that humans can share the workplace with a robot? Well, ASSISTA rewrites that perception. Developed by Mitsubishi Electric, ASSISTA is an advanced Collaborative Robot in safety technology which can work alongside humans without the need for safety fences. It is simple, easier, and more flexible. Furthermore, ASSISTA requires no robot programming expertise, offers immense ease of operation, and allows hassle-free connectivity with a wide range of components.
Easy Control, Easy Operation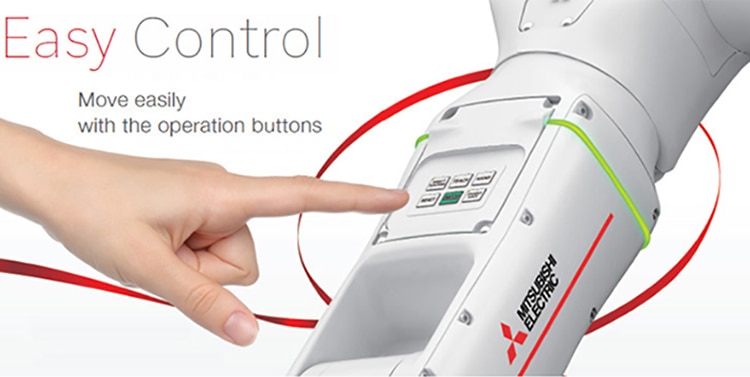 When it comes to robots in manufacturing, the complexity of use is often a stumbling block. However, that's not the case with ASSISTA. The robot's arm has operating buttons which offer you easy control. Adding to this convenience is the LED present on the robot arm which shows the robot's status.
Automation Made Efficient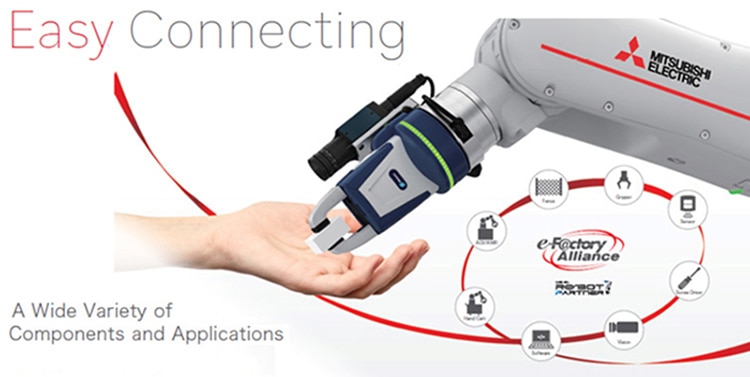 ASSISTA epitomizes versatility, providing a wide range of components such as Vision, Fingers, Grippers, and other peripherals which are developed by MELFA Robot Partners. These tools allow for easy setup and can easily be configured for specific applications. As a result, automation is better implemented and is a lot more efficient.
Flexibility is another key trait of ASSISTA, which is why it can be configured to move freely either as a mobile robot or as a part of an AGV/AMR.
Programming With Just a Touch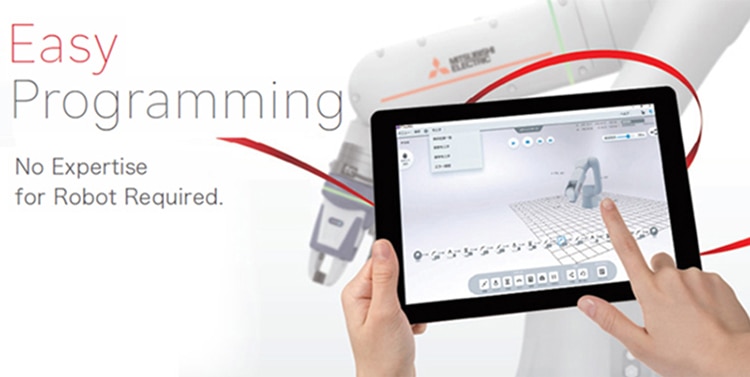 Tablet-based programming is commonplace in the industrial environment nowadays. It is important to know the history of the teach pendant (also called teach box) to know more about tablet-based programming. The teach pendant is a robot programming method. The robot teaching pendant has evolved since the time it was first introduced. Earlier, these pendants used to be big, grey boxes that had magnetic tape storage. The modern teach pendants, on the other hand, are touchscreen-enabled.
Mitsubishi Electric provides easy programming in the case of ASSISTA – all you need to do is touch the tablet screen, allowing for a quick and easy setup. You might think that robot programming expertise is required for working with ASSISTA however, that is not the case. You can make programs visually when you use intuitive operations with RT-Visual-Box. In addition, you also have the 'Visual Programming' software that lets the operator program ASSISTA in a simple manner. It does so with a "train by demonstration" programming interface. This lets the operators move the position of the robot arm and set way-points effortlessly.
It is also important to note that the operational state and fault diagnostics are displayed by 6-colours LED ring (visible at all times) that is mounted around the forearm of the robot.
Collaborative In the True Sense
With its flexible design, easy programming, hassle-free operation and the versatility to connect and operate with a range of components, ASSISTA makes a strong case as a Collaborative Workspace Partner. To know more about it and other factory automation solutions by Mitsubishi Electric, click here.