Today, in a country like India, we are switching from convention to innovative technologies. The other conventional methods of irrigation, excluding rain are run by thermal power, but its supply is not so regular in rural areas. And, the second option is the diesel pump which is a bit expensive due to the rising prices of fossil fuels. Currently, statistics show that 18 million pumps are connected with grid power with further 7 million running on diesel. Hereby, the two common options of irrigation; electric pumps and diesel pumps are associated with some limitations which restrict small farmers to think about them. However, it is expected that by the year 2020-21, a minimum of 1 million solar irrigation pumps will be functioning in the country for irrigation and drinking purpose.
Benefits of solar pumps and solar power irrigation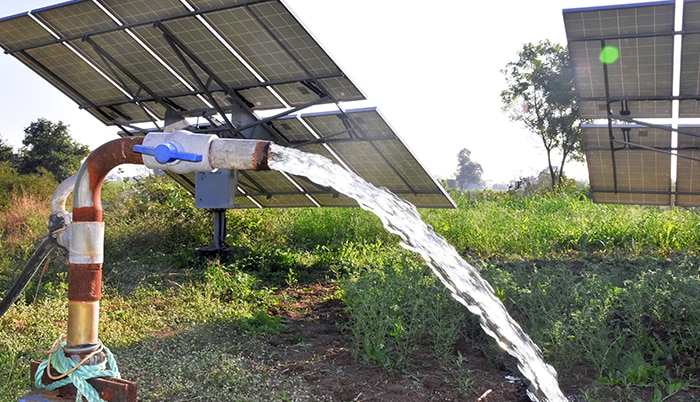 Increasing access to solar energy has brought-in changes to almost every sphere of life in rural India, and farmers are its biggest beneficiaries due to better irrigation facilities. Also, the solar power irrigation system offers low-carbon irrigated agriculture which is rather friendly to the environment and its inhabitants in comparison to electric and diesel pumps. And, to promote green energy, The Government of India is offering subsidy for solar technologies and making sincere efforts in bringing the per unit price to the lowest level. That's why solar power irrigation is becoming a viable option for both large and small-scale farmers as it is effective in reducing energy cost for irrigation. Consequently, the utilization of the solar power irrigation system model leads to optimization of other agricultural resources as well.
Mitsubishi Electric has developed solar power operated Pump Controller for solar irrigation systems which converts the DC power to drive the AC induction motor of a water pump and control its function. It currently offers E12 series of drives. The solar pump controller has more efficiency, is compact in size, easy to maintain, has simple operational functions and has built-in application-specific dedicated features. Its operation capacity ranges from 3 hp to 10 hp with FR-D 700 & FR-E 700 series. Mitsubishi Electric also offers up to 60 hp with its FR- A800 series of drives.
The solar pump controller has some advanced built-in features including MPPT/Optimized output frequency control, automatic restart function, dry-run detection, flow rate monitor, remote monitoring function and capacity to work on Solar and Grid supply. The dry-run detection function helps prevent the motor from remaining rotating without enough water flow or with a blockage in the pump. It also comes with a power failure stop function where the DC bus minimum voltage is reduced to avoid under voltage tripping and to maximise output delivery from morning to evening. The Automatic Operation Function enables VFDs to operate automatically without turning on its switch. Through the Flow Rate Monitor, it is possible to monitor flow rate via an operation panel with suitable parameter setting or Modbus communication.
Welcome the sunny days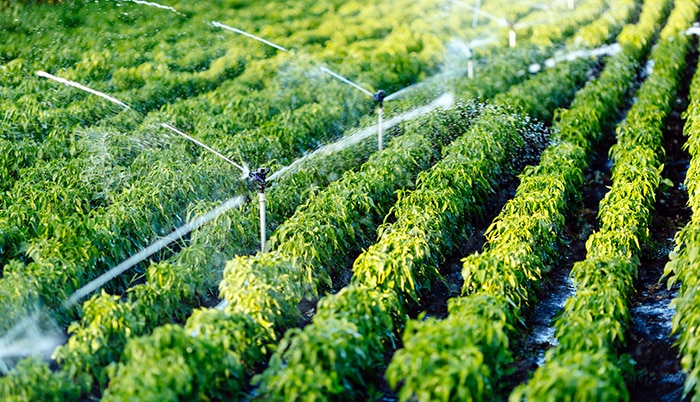 Mitsubishi Electric solar pump controllers are manufactured under the guidelines of Ministry of New and Renewable Energy (MNRE) are embedded with the most advanced innovations in the industry. They are produced in the state-of-the-art manufacturing units and are compliant all the major quality standards. Besides, Mitsubishi Electric focuses on features like easy installation, low maintenance, simplicity and reliability, better MPPT range in its solar irrigation pump controllers which give effective pumping output for a larger period. The advanced technologies are helpful in monitoring the various irrigation parameters through remotely and supervisory intelligent control system. Mitsubishi Electric's latest range of solar irrigation pump controllers is based on Internet of Things (IoT) and can be controlled through smartphones.
Mitsubishi Electric the pioneer in solar energy and the global market leader provides cutting-edge technologies in solar pump controllers which are economically viable for irrigation purposes. One of the many ways in which solar electricity benefits daily lives is by pumping water and providing water for irrigation among others. All in all, these solar power pumps are the perfect remedy to irrigation problems due to which farmers bear a great loss in agriculture, and their installation will also help reduce air pollution up to a great extent.